For all coffee lovers, Blueberry Agro is here with another finest quality coffee, freeze-dried coffee. Our Instant Freeze Dried Coffee beats the heat! The low-temperature drying process helps retain excellent taste, with rich aroma without any bitterness. This can be enjoyed as a hot or cold coffee as it dissolves in water or milk – generating a fresh brew experience.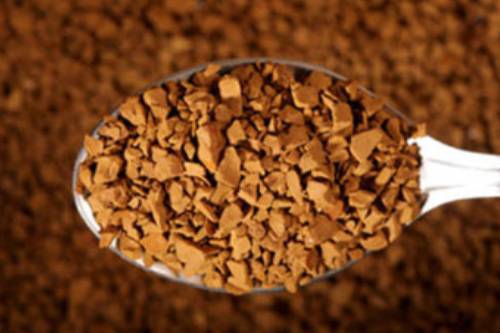 Some instant coffee companies are using a different method (spray-drying) to create their product. This method involves pumping hot coffee in a fine mist through hot and dry air. The dry air sucks all of the moisture out of the coffee that leaves only the dried granules behind. This method degrades the taste of the coffee because it burns the coffee hence removing the exact flavour and making it much bitter. 
Blueberry Agro's freeze-dried instant Coffee makes sure never that it maintains taste and quality with instant coffee. It is just as good as a brewed cup of coffee. Using freeze-dried coffee is also shockingly easy, as it takes seconds to dissolve in warm or cold water. What's not to love about this?
A SIP OF ENERGY:
What would be much better than having a cup of dry-freeze instant coffee and a newspaper to start your day. Our Instant Coffee is made with precision to help you refresh your taste buds and energize you with every sip. The fresh Freeze-dried coffee contains caffeine that enables you to invigorate yourself and boost up your energy levels as well. The instant coffee can be consumed at any time as per your convenience. 
ANYTIME, ANYWHERE:
The BlueBerry Agro Special freeze-dried instant Coffee is ideal for all occasions. So whether it is a small gathering, a casual chat with your friends, you can indulge in this wonderfully crafted coffee seamlessly. This Instant Coffee is ideal for those looking out for robust taste and a strong flavour. The freeze-dried coffee from blueBerry Agro is power-packed with the goodness of nature and some of the best ingredients
PERKS OF FREEZE-DRIED COFFEE:
Freeze-dried coffee can be stored for years:

 Freeze-dried Coffee lasts for months or years and does not require any refrigeration or special care to keep it "fresh." It can also be efficiently rehydrated, unlike dehydrated foods. These dried foods can be stored anywhere regardless of temperature or altitude, making it perfect for people living in extreme climates where food cannot be easily stored or grown.

Keeps the original integrity of the food or drink

: this freeze-dried coffee assures you to maintain its smell, taste, and generally, the shape of the actual food. Freeze-dried coffee does not need any other artificial ingredient or preservative to keep it fresh. With most air-dried and infused products, sugar or preservatives are added to make sure they last longer and retain their original flavour.
The best food for survival supplies: Many disaster kits are composed of freeze-dried products because of their nutrient value, size, weight, and long-lasting characteristics. 
Reduces dark circles, black heads and aging signs.
Covers open pores and marks on the face.
Provides a glow to the face.
"The essense of all beings, the essense of earth is water, the essence of water is plants, and the essence of plants is the human being."